CleanDeck Detergent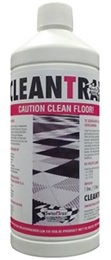 CleanDeck is a new and fast-acting product that is completely biodegradable under Regulation 648/2004 (EC). The powerful features of CleanDeck makes degreasing materials less time-consuming than with other detergents. CleanDeck is skin-friendly and safe to use in a bucket with a sponge, cleaning cloth or brush. You can also use CleanDeck in high-pressure sprayers, scrubbing machines , carpet cleaners and nebulisers.

CleanDeck can be used on: plastic flooring, laminate flooring, epoxy flooring, tiles, windows and painted surfaces, engines, rims and brakes, boats and boat materials. By pollution such as oil and grease, gasoline, lubricants, nicotine stains and (soft) drinks.

CleanDeck is diluted with water in a ratio of between 1:10 and 1:100. Heavily contaminated surface or material can be cleaned with a dilution of 1:5.
CleanDeck is an environmentally friendly and safe product with outstanding test results.
Technical Specifications
CleanDeck falls within the EU Directives

- no. 67/548
- no. 73/173
- no. 77/728

Contents

- 1 liter
- 5 liter
- 10 liter